Finally! After 10 years from making my first, and until now, only personal web page I managed to complete work on this ongoing agony that is called my web page.
The story of this site started in 2005 I think, that's when I registered bananica.com domain. I managed to make one splash screen for it, which was active until now! This is how it looked like: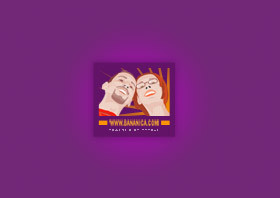 And then in May 2006 I started designing my website. It took me 4 years to make it, the longest project I have ever worked on, and hands down, the worst client ever. There are two main reasons for this taking me so long:
there was always something more important to work on, you know, the things that actually earn you some money
I was never satisfied with the designs I came up with, even this one you're looking at, I don't really like it that much
Here on the right you can see some of the designs I made for this website. Finally, this year I decided that this has to stop, so I scribbled a layout on paper and decided that, no matter what, this should be final design for first bananica.com. It's just too bad I didn't come up with that earlier, like 4 years earlier.
I would also like to mention that I used the best ever CSS GUI editor CSSEdit for writing all of the CSS for this website (and many others).
Now I'm going to open that bottle of champagne that's waiting for me in the fridge and enjoy the moment with my girfriend who supported me from day one! (L)
P.S. Hopefully writing next post will take me less than 4 years.